Step
Crypto Coffee: new quizzes on Step for October 
On Step, Halloween season means special quizzes: take 5 minutes for a Crypto Coffee
Autumn has come and you may feel a bit drowsy, plus the bear market doesn't help. Chin up! Halloween is coming and there are many crypto mysteries to unravel.
What's better to keep the mind awake and alert than quizzes and caffeine?
How Crypto Coffee Quizzes Work
Here is our recipe for a successful Crypto Coffee, which will make the quizzes particularly advantageous:
For two weeks (19/10 2pm UTC – 3/11 2pm UTC) a new Quiz category will be available, with unreleased  questions about trending topics. 
During the first week (19/10 2pm UTC – 26/10 2pm UTC) rewards for these quizzes will be 0.50 YNG tokens.
During the second week (27/10 2pm UTC – 3/11 2pm UTC) available lives to use the quiz function will increase from 3 to 20, and rewards will simultaneously go down to 0.20 YNG as for other quizzes.
NB. Lives will work like this: on 27 October you start off with 10 lives, and with each passing hour you gain 1 more up to an accumulable maximum of 20 lives.
The topics of the Quizzes
The questions in the Crypto Coffee category will not be on a single article. Instead, we will review some of the key topics of recent months:
● The Metaverse, to review in concrete terms how virtual reality is being formed on blockchain and how it impacts our lives.
● Ethereum and Proof-of-Stake, to understand the practical changes The Merge is making in this huge ecosystem.
● The Crypto Market, to test whether you understand how this market works so that you can make informed trades.
Take the opportunity to treat yourself with a few extra YNG tokens in your Step wallet.
Now, it's time to take five minutes for a quiz and an espresso. You'll already feel in step with the trends!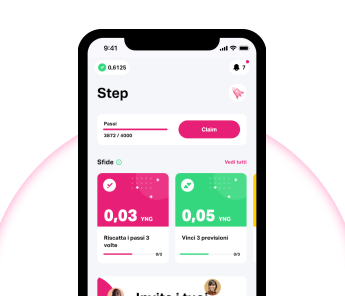 Download the Young Platform app