Step
Up&Down – The new Step Feature is out!
With the new Young Platform Step feature you can learn how to predict the cryptocurrency market and become a trader
Now available on Step – Up&Down, the new feature that introduces you to the world of trading.
Choose the Coin for your forecast and analyse its trend: will the price go up or down?

Wager your YNGs and win!

With Up&Down you learn how to predict the market, to become a real trader

How it works
Available Coins
For starters, you can bet on the two most popular cryptocurrencies, Bitcoin and Ethereum. Choose a coin and check out the Market Trend, the Community Trend and the price chart (you can choose to view the currency trend during a year 1Y up to 3h). Finally, tap on UP if you are convinced that the market will go up in the near future or DOWN if you think it will go down.
Set the Forecast
How many YNG are you willing to wager for this forecast? Choose your currency and manually set the amount and duration of the forecast.
Prize
If you win, you will receive 70/80/90% more than the YNG tokens you wagered, depending on the Duration you chose. If your forecast was incorrect, you will lose all the YNG wagered.
Indicators
The Market Trend
The market trend is the price trend or trend that the financial market of that cryptocurrency is undertaking or has undertaken. The trend is in fact used both for retrospective analysis and to make forecasts prior to investments.
The Community Trend
Choose a coin and find out how the rest of the community is doing. This indicator lets you know if most users are voting "up" (bullish) or "down" (bearish) at that moment.
Neutral: the community is unsure.
Bearish: shows a strong downward trend.
Bullish: shows a strong upward trend
You can use this information in two ways: you can follow the community hoping that their forecast is accurate or, instead, you can challenge the mainstream by proving them wrong.
Forecast
Shows if you predicted up or down and the price of the coin at the moment of submitting the forecast.
Timer
It's the countdown to the time of variation in price that you set up. When the timer gets to 0, check if the price just went up or down.
Variation
The price variation that the cryptocurrency is showing at that moment. According to the Forecast and the Variation, Step informs you in real-time if you are in danger of losing or have a good chance of winning.
History
Here you can view all your past forecasts and check your trading skills.
You haven't had much success? Keep going and you'll see that your results will improve!
Do you have any doubts? Get to the right section: Support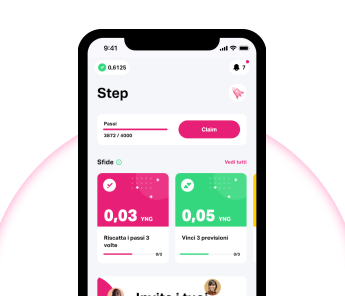 Download the Young Platform app