The Moneybox section gets a makeover for an increasingly flexible and customised crypto hodling experience. Discover the promo!
With the new crypto Moneybox, your buy and hold strategy is easier and more customisable.
Keeping up with the market is stressful for many, who instead find it more comfortable to buy little amounts regularly. Studies confirm the validity of this approach on both traditional markets and cryptocurrencies. Thus was born the Moneybox 2.0 – discover all its new features and the dedicated promo!
Crypto Moneybox: what it is and how it works
Young Platform's crypto Moneybox is a separate wallet from the one you use to store your cryptocurrencies normally. It is used to put virtual currencies aside for a long time and avoid spending them on everyday or frequent transactions.
The cryptocurrencies compatible with the feature are as follows:
Already available
Bitcoin (BTC)
Ethereum (ETH)
Young (YNG)
Ripple (XRP)
Cardano (ADA)
Polygon (MATIC)
Dogecoin (DOGE)
Polkadot (DOT)
Uniswap (UNI)
Decentraland (MANA)
The Sandbox (SAND)
Newly added
Aave (AAVE)
Chainlink (LINK)
Litecoin (LTC)
Avalanche (AVAX)
Axie Infinity (AXS)
Basic Attention Token (BAT)
Solana (SOL)
Pax Gold (PAXG)
Fantom (FTM)
New: Multi-crypto Moneybox
There are now 3 ways to create a crypto Moneybox:
The Single Coin Moneybox
The Curated Bundle
The Bespoke Bundle
The 'Single Coin Moneybox' is the standard mode: simply create a Moneybox in which to set aside a single cryptocurrency via recurring purchase.
Things get even more interesting with the 'Curated Bundle': these are ready-made cryptocurrency mixes that can be purchased on a regular basis. These sets contain coins similar in application and sector, designed for those interested in specific crypto applications:
Web3 (DOT, LINK, UNI, BAT, MANA)
Metaverse (SAND, MANA, AXS)
PoW (BTC, LTC, DOGE)
Smart Contracts (AVAX, ADA, ETH, DOT, MATIC)
DeFi (AAVE, UNI, LINK)
Popular (BTC, ETH, YNG, XRP)
Want to put your own spin on it? Now there is also the possibility of creating a 'Bespoke Bundle': select between 2 and 5 cryptocurrencies to include in your moneybox (from those available) and choose the percentage for each.
Whereas for other Moneyboxes you can create one per currency or per curated bundle type, in this case there is no limit: you can create as many bespoke bundles as you want.
The real icing on the cake? Until 30 June, all purchases made for the bundles will be 100% commission-free. The promotion will not apply to the single coin moneybox.
How do you create a crypto Moneybox?
The Moneybox is a section of the Young Platform app and web version, which you can find in the main menu.
The creation is guided step by step and will allow you to choose in order:
What kind of crypto Moneybox to create
Which cryptocurrencies to include
The percentage in which to distribute cryptocurrencies, if it is a bundle (minimum 10%)
The frequency of recurring purchase
The amount of each purchase, which in the case of bundles indicates the total amount of Euros with which all cryptocurrencies are purchased together.
For each type of bundle, a different minimum amount is indicated, which is based on the minimum amounts of the individual cryptocurrency markets. The maximum amount, on the other hand, is always €250.
We understand this better with an example of a bespoke bundle:
You selected the monthly purchase of 10% of A, 40% of B and 50% of C.
You entered €100 as the amount of the recurring purchase
This means that each month you will get €10 of A, €40 of B and €50 of C in a single bundle.
As your Moneybox grows, you will have richer and richer statistics to monitor the performance of each crypto or bundle.
In case you want to change your strategy, you can always close the crypto Moneybox and recreate it, or deactivate and reactivate the recurring purchase with different settings.
Remember that when you close any Moneybox, your cryptocurrencies are only transferred to your spot Wallet, they are never sold unless you sell them.
Please note: for those who, prior to the launch of the Moneybox 2.0, already had active Single Coin Moneyboxes with recurring purchases, their balances were moved to the Spot Wallet, but they are still active. Those who, on the other hand, had Moneyboxes without recurring purchase, they have been closed and the cryptocurrencies stored in these have been moved to the Spot Wallet. More info on the Support page.
Discover the new crypto Moneyboxes now and make the most of zero purchase fees before 30 June!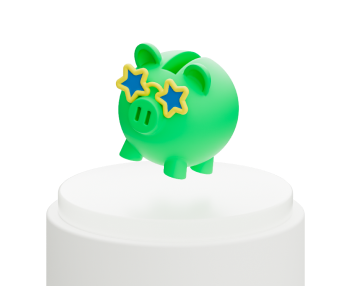 Download the Young Platform app