Company
Navigating the Bear Market in a crypto company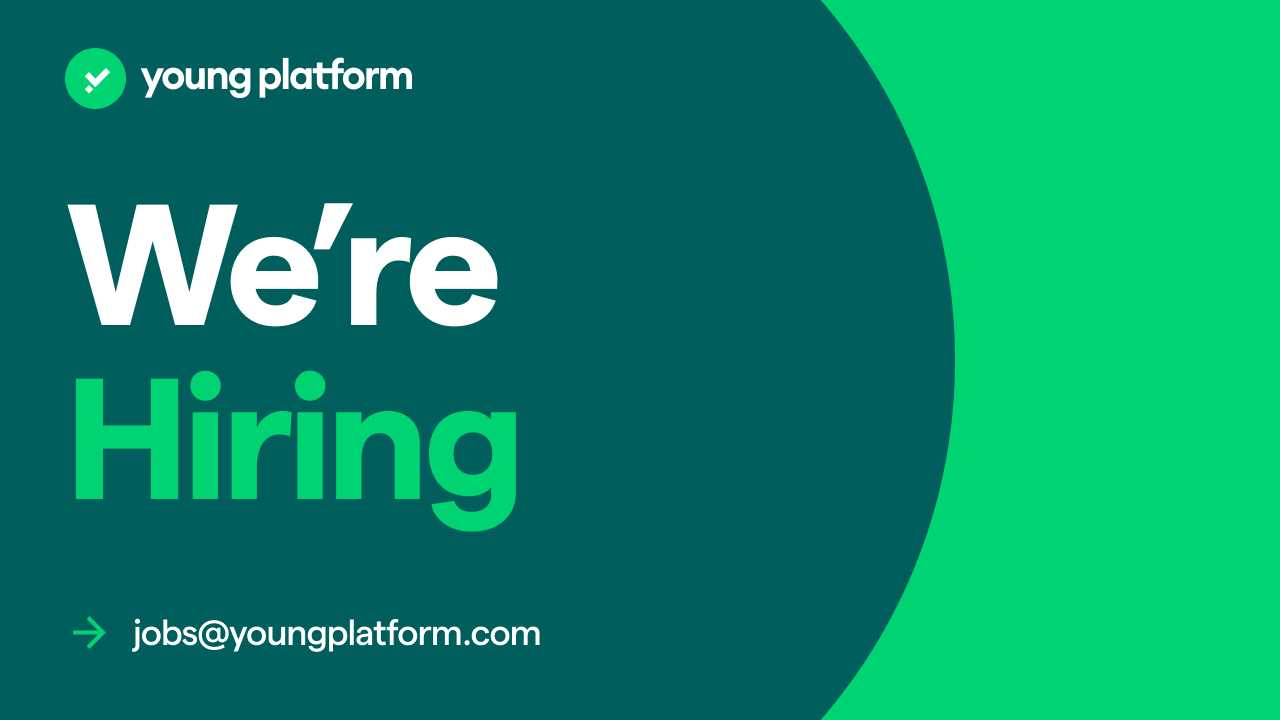 Young Platform looks beyond the current market trend and continues with its recruitment plan. We're here to explain why this is not a crazy move
The days at Young Platform move quickly. So too does the world of crypto. With everything moving at the speed of light, we try to keep up and make this universe accessible to everyone. It all starts with our colleagues in front of the coffee machine. We all work in crypto, but we specialise in many different areas. The Trading room shares crypto memes with the Social network team and the Developers listen to behind-the-scenes gossip coming from Customer Support. In this environment, we also see our wallets slipping more and more into the red. With a pat on the back, we say to newcomers: "first time?". Your first bear market, just like your first Bitcoin, will never be forgotten.
The economic conditions in recent months have changed rapidly. The crisis in the crypto market (and beyond) is leading many companies in the sector to cut their recruitment. For some, the answer to this crisis is to cut labour costs through layoffs, and some may even regret having hired too much when the market was growing. But at Young Platform, our hiring plan is tight and we intend to stick to it. It is not a reckless choice, and we are here to explain why. By the end of 2022, 52 more colleagues will have joined and maybe a single coffee machine will no longer be enough.
Bear markets pass but Young Platform's mission remains
At Young Platform there are many open positions, a bear market (however long it lasts) will not stop our growth. We have decided to switch the perspective by taking advantage of this delicate moment to think outside the hype that overwhelms us when the market is going strong. We can ask ourselves with a clear mind: How are we working? Why do we do what we do? Young Platform's mission will always remain the same: to facilitate the use and understanding of crypto and blockchain technology. We know what these tools can do for the world as we know it. We know that they can improve people's lives. That is why in the face of it all, we have to keep building, and even in current conditions, the team needs to expand.
An example of this spirit is the listing of our token. YNG was launched on the market even when the market itself was not the most welcoming. Is that a bold move? No, the same reasoning also applies here: bear and bull markets will succeed each other, but the values behind Young Platform and its community will remain unchanged.
The invaluable value of the Young Platform team
When you join Young Platform you'll have a lot to learn. You don't have to be a great expert to start, but crypto education is a necessary tool and it has become our bread and butter. When you join Young Platform, you are aware that the industry is evolving and you cannot stand still. That's why the talent Young Platform gathers comprises some of the most curious and active minds around. The Young Platform team is always ready to take cues from the swirling crypto world and to get involved at the most challenging of times. Working in crypto is not a job like any other, and it's our mission that guides us through the difficulties. The inestimable value of Young Platform's team lies in confrontation that leads to growth. Between the corridors of our office and our video calls that connect colleagues all over the world, peer-to-peer education is key. There is no such thing as crypto education.
The capital increase and our recruitment plan
On the 13th of June 2022 Young Platform closed a €16 million investment round led by Azimut, one of Europe's leading independent asset managers. Banca Sella and United Ventures also participated in the round. This support for Young Platform's growth will be visible in its recruitment plan. The forecast is to have a team of 110 crypto workers by the end of 2022.
You can view our open positions with this link: https://young-platform-spa.factorial.it/#jobs
Download the Young Platform app