Step
Transfer YNG for free, instantly
YNG transfer becomes instant and free with Gift Cards!
You no longer have to wait until Friday to transfer YNG from Step to Young Platform, thanks to a new procedure.
How does it work?
To transfer YNG, you no longer need to enter your Wallet address, but simply create a Gift Card which you then redeem on Young Platform.
Creating and redeeming the Gift Card is immediate, so you'll have your YNG immediately available in your Young Platform balance, with no waiting time.
Amounts allowed are from 45 to 125 YNG (every 5 YNG).
Fees have been reduced to zero
Settlement is immediate
How does it work?
From the Step Wallet, in the top left-hand corner, click on Use.
If this is the first time you are transferring, you will be redirected to connect the Step and Young Platform accounts.
Once the accounts are connected, go back to the Wallet
Create a Gift Card
Choose the amount (minimum is 45 YNG)
Continue
Swipe up to confirm
You can copy the code in case it is not entered automatically
The Young Platform app will open
Redeem
Any doubts? Read the complete guide on the Support website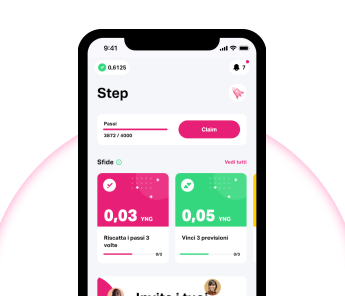 Download the Young Platform app