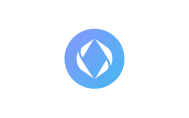 What is Ethereum Name Service?
Ethereum Name Service is a domain system on the Ethereum blockchain. The founders, Alex Van de Sande and Nick Johnson, had an idea: to offer ETH wallet holders a more user-friendly address compared to the network's typical alphanumeric codes. Just like on the traditional web, where the numeric IP addresses of websites are transformed into understandable names by the Domain Name System (DNS). A more intuitive way for users to navigate in browsers, now possible for blockchain and Web3 as well.
Why follow ENS?
Blockchain name services will be a fundamental component in the construction of Web3, because they create a digital identity corresponding to a site, wallet or social network profile. But following the progress of ENS (the code of the corresponding token) is also interesting for its tokenomics, which puts the community at its heart. 50% of the total supply of ENS is destined for the DAO, while 25% was distributed with the 2021 airdrop. Users who had purchased the token prior to 31 October 2021 were rewarded.
How was it created?
The founders of Ethereum Name System conceived the project in 2017, back when they were part of the Ethereum Foundation. In 2018, however, the core team broke away from Vitalik Buterin's foundation, forming an organisation of their own. Seven members were particularly active in developing the project: Nick Johnson, Sergey Nazarov, Dan Finlay, Taylor Monahan, Aron Fischer, Jason Carver and Martin Swende. ENS has no direct financers but is supported by some of the crypto world's major players: Binance, Chainlink, Classic Labs and Protocol Labs in addition to the Ethereum Foundation.
Stay up to date with the price of Ethereum Name Service
Unlimited access to +1000 free content items
Get inspired by those who have made their passion a profession. New content available directly in your account every day.
Buy Ethereum Name Service in 3 steps on Young Platform
Register and complete identity verification
Create an account for free, all you need is a selfie and an ID.
Top up your account with a bank transfer
Make a deposit by bank transfer or credit card.
Redeem the €10 bonus and enter the market
Buy, convert and store over 30 cryptocurrencies on Young Platform.
What is Young Platform?
Young Platform is the simple and secure European exchange already used by thousands of people to buy and sell cryptocurrencies. How many times have you told yourself: "the crypto market is interesting but I wouldn't know where to start"? Young Platform makes your life easier with an easy and intuitive interface, free educational courses, news and tools for everyone. Opening a profile on Young Platform is free and only takes a few minutes.
Check out the Top movers
Take a look at the prices of cryptocurrencies that have reached higher volatility in the last 24 hours and catch market trends.