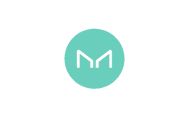 What is Maker?
Maker is mainly a governance token and is closely linked to the DAI stablecoin. Both are based on Ethereum and regulate a DeFi ecosystem for decentralised lending, launched in 2017 by a team initially supported by the Maker Foundation.
Why follow Maker? 
Maker's ERC-20 token is MKR, which fulfils governance functions for the decentralised MakerDAO organisation. The latter has total control of the protocol, having permanently replaced the Maker Foundation. The Maker token distributes decision-making powers to its owners; in particular, 1 MKR entitles them to a vote. This can then be spent to make choices regarding the management of the DAO, but above all, decisions concerning the protocol, such as the rate of the stability fee that regulates the price of the DAI stablecoin.
How was it created?
The man behind the Maker token and the services linked to the DAI stablecoin is Rune Christensen, a Danish entrepreneur with degrees in biochemistry and international economics. In 2020, the protocol's popularity has increased exponentially. DAI and Maker now boast top-notch partners (both centralised and decentralised), with projects under development in the worlds of DeFi and GameFi.
Stay up to date with the price of Maker
Unlimited access to +1000 free content items
Get inspired by those who have made their passion a profession. New content available directly in your account every day.
Buy Maker in 3 steps on Young Platform
Register and complete identity verification
Create an account for free, all you need is a selfie and an ID.
Top up your account with a bank transfer
Make a deposit by bank transfer or credit card.
Redeem the €10 bonus and enter the market
Buy, convert and store over 30 cryptocurrencies on Young Platform.
What is Young Platform?
Young Platform is the simple and secure European exchange already used by thousands of people to buy and sell cryptocurrencies. How many times have you told yourself: "the crypto market is interesting but I wouldn't know where to start"? Young Platform makes your life easier with an easy and intuitive interface, free educational courses, news and tools for everyone. Opening a profile on Young Platform is free and only takes a few minutes.
Check out the Top movers
Take a look at the prices of cryptocurrencies that have reached higher volatility in the last 24 hours and catch market trends.